A Reflective walk around the grounds of Parkminster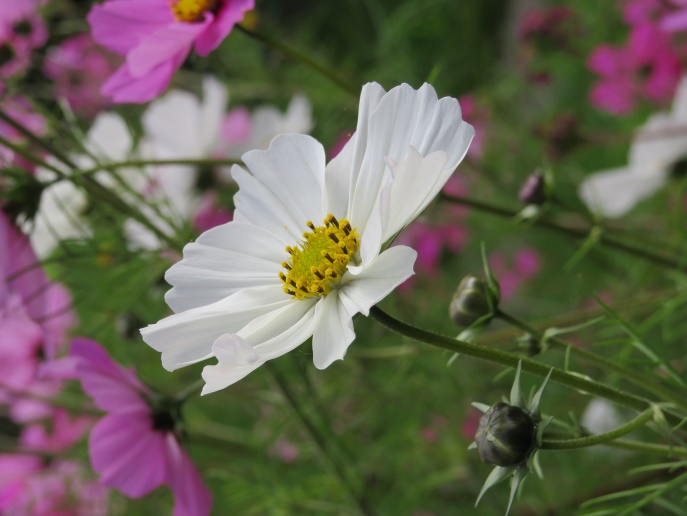 Here in the grounds of Parkminster, you have come to a quiet place, part of the holy grounds of Minster Abbey.
We invite you to take a few moments to look around our gardens and the wildlife and reflect on the beauty you find here.
THE PATHWAYS Take the time to feel your feet walking on the pathways trodden by people over many centuries. Give thanks for the people who have paved our way through life.
THE PONDS   Maybe there are ducks on the water today swimming with serenity or squabbling over food? Enjoy watching the light on their feathers and the way they are behaving with each other. Did you notice the fish jumping up towards the willow branches hanging just above the water?
Find THE WINDCHIMES hanging in a tree beyond the buildings. Stop and listen to the sound they make, or enjoy their silence. Notice the gentle humming of the bees as they hover over the honeysuckle flower.
Walk beneath THE PERGOLA   Find just one beautiful rose and spend a minute smelling its perfume, feeling its petals. Are there insects busy at work?
The gardens are planted with several clumps of  LAVENDER. find one and roll its flower-heads in your hands to release its smell. Savour the oil of this plant which has been healing us since Roman times.
Look at the FLINT stone along the boundary walls.  It was part of the ocean-beds and our white cliffs for millions of years. Now it forms our glinting walls which reflect the sun and deflect the rain.  You might like to stroll along the paths where some of the students are tending the flower gardens. Notice attentively how they they work together.
As you pass by the old Oast House barn, you will walk beneath the beautiful silver birch and ash trees.   Look closely at the shape of their leaves which display a range of beautiful colours throughout the year.   Did you hear a CROW calling? Did this bird, or one of the many others in the Abbey trees, have a message as it called? Have you seen the little wrens flying quickly between the branches or the lady birds sitting on a leaf?
Find a wooden seat beneath a tree and notice the BUTTERFLIES  hovering over the rich varieties of shrubs.  They give a sense of harmony.  For a few precious moments notice the stunning Red Admiral or Peacock butterfly feeding amongst the flowers.
Spending time with nature offers us all precious breathing space away from the stresses and strains of modern life. It enables us to experience the joy and wonder of God's beautiful gift of creation.   As we slow down we begin to contemplate and connect with God, with one another, and the wildlife that lives side-by-side with us.