What Do You Want Me To Do For You?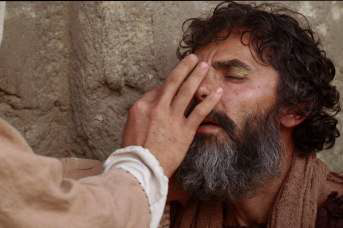 There was a blind man sitting at the side of the road begging…. He called out, 'Jesus, Son of David, have pity on me.'… Jesus stopped and ordered them to bring the man to him, and when he came up, he said to him, 'What do you want me to do for you?' 'Sir,' the blind man said, 'Let me see again.' Jesus said to him, 'Receive your sight. Your faith has saved you.' (cf. Lk. 18: 35-43).
This passage from the Gospel of Luke tells me a lot about what it means truly to encounter Jesus in prayer. I've read this story many times, but this time when I read it, I was at first a bit taken aback by the apparently daft question Jesus asks the blind man: What do you want me to do for you? Well, I thought, he obviously wants to be healed of his blindness. But then I realised that the blind man could have had other issues; his blindness might not have been the priority for him. Perhaps he had a son on the verge of death, or perhaps he had other illnesses that were not evident. It could have been anything. The question is a highly important one. Jesus wanted the blind man to state his wishes so that he, the blind man, would be fully aware of what he was asking and could take full responsibility for the encounter and for what might happen next.
"Sir, let me see again," the blind man says. This in itself is impressive – and Jesus doesn't miss the fact that the blind man expresses no doubts about Jesus' ability to heal him. His faith rings out with clarity. Moreover, the blind man knows what he wants. He does not hesitate or appear to weigh alternatives before speaking. He wants to see again, and he knows that Jesus is able to bring this cure about. And Jesus' answer? Direct, simple, almost off-hand. A modern-day Jesus might have said simply, 'Sure! See! You are already half-way there because of your faith.'
So what does the full text tell me about asking Jesus for something? About prayer?
The text says, "Jesus ordered them to bring the man to him." It is important, therefore, to go right up to Jesus, and have a real encounter with him, to be aware of him and to address my prayer to him. I should not just be talking to myself or dreaming. I must, in my mind and heart, stand before Jesus, and be in his presence, when I pray.
It is important to be clear, to tell Jesus what I want and not, out of some misguided idea of abandonment to the divine will, go all vague. Moreover, I must take
responsibility for my request. There may be times, perhaps many times, when we do not receive the specific grace we have asked for – but we can be sure that we always receive something, and usually it is a grace that goes much deeper than the one we requested. Eventually we will be able to identify that deeper grace as the real answer to our prayer. But unless we make that original request specific, and own it, this deeper grace will probably go unrecognized.
Jesus easily cures the blind man, without a laying on of hands or any other physical process. He merely utters the healing words. He is able to do this because the blind man trusts him completely – his faith saves him, as Jesus declares afterward. The blind man, presumably, had never met Jesus before; he knew him only from hearsay (rather like us). And that was enough for the blind man. Is it enough for me?
Jesus' question, "What do you want me to do for you?" tells me a great deal about Jesus' eternal 'attitude' toward us whenever we go right up to him, in faith, and ask him something. He is already there, saying, 'Johanna (or Tom, or Annette), what do you want me to do for you?' He places himself completely at my disposal.
And what is my answer?