Dear Friends,
We look back with great gratitude for God's goodness and the help of so many friends and volunteers over the past two years. As we continue to pray for an end to the pandemic and for all those affected by it, we are especially remembering all our families and friends.
This will be the last newsletter we are sending out in the customary way. In order to save on paper and help the environment, and to reduce our postage expenses, we have decided that our news and other information will be sent out by email in the future. On the back page you will find information on how to sign up or to request the newsletter by post if you do not have access to the internet!
Our guesthouse had to remain closed for over a year. We missed our guests and friends who are so much part of our Benedictine life! However, in June we were able to open again, after remodelling the guesthouse into several self-contained self-catering units for retreatants. We are also extending our open season for most of the year. Please have a look at the enclosed flyer for details.
Our friends at Looking Ahead in Parkminster were able to return this summer. They started with a few students at first but are now back in full strength.
A new venture are the Art Days that have taken place throughout the summer – with expert instruction from Brian: drawing, painting in pastels and acrylics & water colour, etc.
During the autumn months we, too have been enjoying art classes by Brian, learning a variety of techniques!
Due to the various lock-downs we have twice been unable to welcome our Oblates for their annual retreat. Finally, this October, we had the great joy of being united again with our extended family! The input from oblates and sisters was greatly appreciated, but even more the opportunity to meet and share together.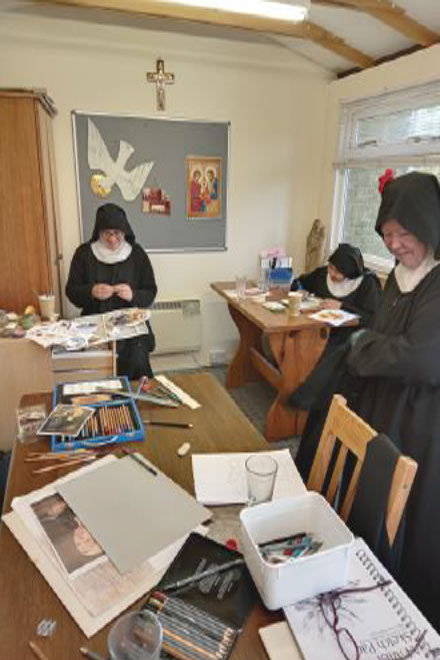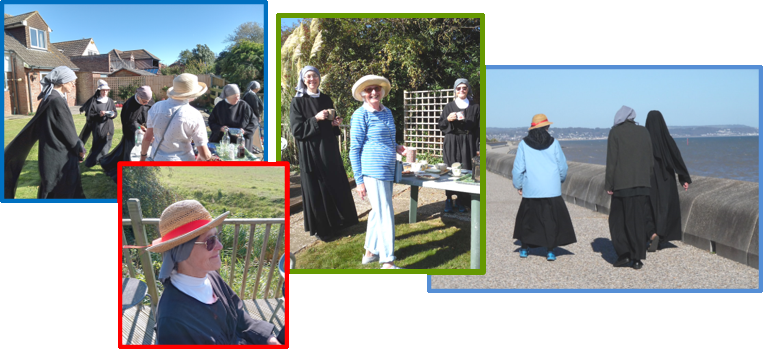 At the end of September we went on a community-outing to Dymchurch where our dear friends and oblates Maud and Vincent received us with overwhelming hospitality. It was a glorious, sunny day, and we enjoyed the tremendous welcome, the scenery, the lovely meals and the walks along the seafront in strong winds – with the constant backdrop of the pounding of the waves.
We closely followed the discussions of COP 26 in Glasgow. As we continue to pray for our common home and for all who are committed to care for creation, we would like to share with you this prayer attributed to Saint Basil:
O God, enlarge within us a sense of fellowship with all living things to whom you gave
the earth in common with us. May we live gently with our fellow creatures and through the work of our hands, may the voice of the earth go up to you, not in sorrow but in a song of praise.
Amen.
We are currently waiting for the go-ahead from Thanet District Council Conservation and Planning for our own project to install solar panels. We hope to be able to produce sufficient energy for abbey, guesthouse and Parkminster and even a little extra to put back into the Grid!
During lock-down we joined the National Vocations Team for zoomed session with young people who had the opportunity to meet 'real' nuns.
The 'Vocations Cafe' – one hosted by Minster Abbey – was an opportunity for young adults interested in the consecrated life to meet with us and share together.
Those of us who participated found it both exciting and challenging. It has greatly encouraged us as we accompany women who are seeking God in the monastic life.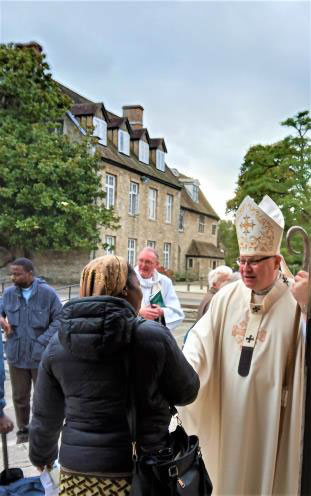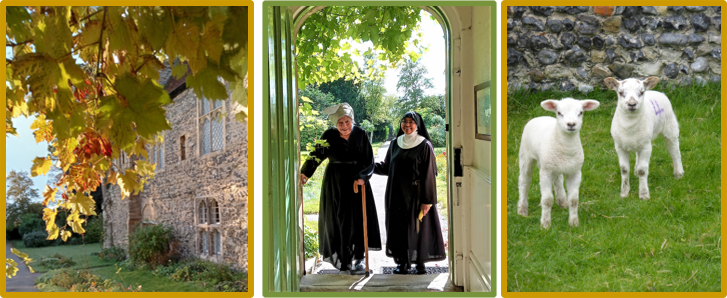 We wish you all a blessed Advent and a joy-filled Christmas!
With our love and prayers, M. Nikola and the Community